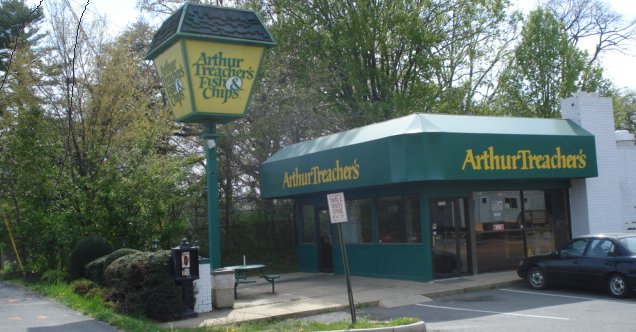 The only free standing Arthur Treacher's I know about is near my house. All the others have gone the way of the dodo, except a few remnant populations in food courts along the New Jersey Turnpike. I like the original fish and chips and the offerings of Long John Silver or Red Lobster just do not measure up. Someday, maybe soon, this one will also be gone. On that day I shall mourn. BTW – Notice the pay phone, another endangered species.
A similar fate has befallen A&W stands.  You can still get the root beer at the grocery store, but they are mostly gone as free standing stores with the honest  draft style root beer.  The only one I know about is on HWY 29 on the way out of Charlottesville.   When I was a kid, my cousin Lani used to take me to swim at Racine beech.  We would stop off on the way back at the A&W on Lake Drive.   I think that is some kind of drive in bank these days.   Near Holmen there used to be one across from the Skogan's IGA.  I could walk to that one from Chrissy's parents' house.   It still features root beer and still even has the drive in, but it is no longer A&W.

Of course, all sorts of new chains have come to take their places. At the Taco Bell near my house, you really cannot order in English and expect your order to be correct. I guess that is why the numbered menus are so useful. You can just hold up as many fingers as the item you want to order. American high school kids used to work at these places, but now you find nothing but recent immigrants. The other day I went to Taco Bell and was amused to find some Asian immigrants in the back speaking in heavily accented Spanish. It must be challenging to be the immigrant within the immigrant community.
Duncan Donuts is doing all right, having weathered the low carbs craze of a few years back.   I always preferred Duncan Donuts to the Krispy-Kreme sugar-dough balls.   Krispy-Kreme sailed ahead from its southern bastions until it was wrecked on the low-carbs rocks, taking its customers and sharholders on a roller coaster ride.  Duncan Donuts abides.  Up in Boston, there is a Duncan Donuts on every corner.  There are not quite so many around here.  They do make the best coffee. I don't like Starbucks as much.   I can never figure out what all the various coffee types are called and which ones I like.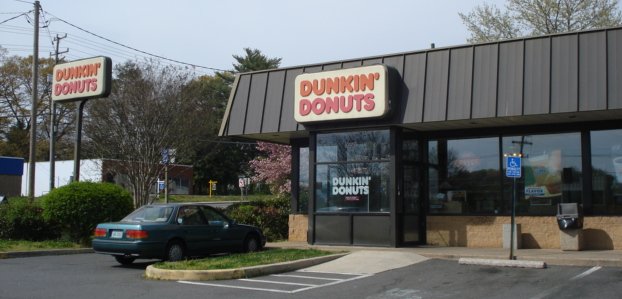 Speaking of coffee, there is an interesting relationship. Back when I was a kid, gas cost around quarter. Everybody looks back with great fondness to those prices, but everybody made a lot less money too, so it was about the same number of hours/minutes worked to fill up. But coffee used to be a nickel. Today gas costs $3.39, but if you go to Starbucks or someplace like that, coffee costs about the same as gas, so gas is a much better deal than coffee.Away from Iraq, as you see, my thoughts become more prosaic.
The great privilege of freedom, BTW, is the freedom to have prosaic thoughts. When everybody thinks serious thoughts most of the time, you know the country is in trouble.