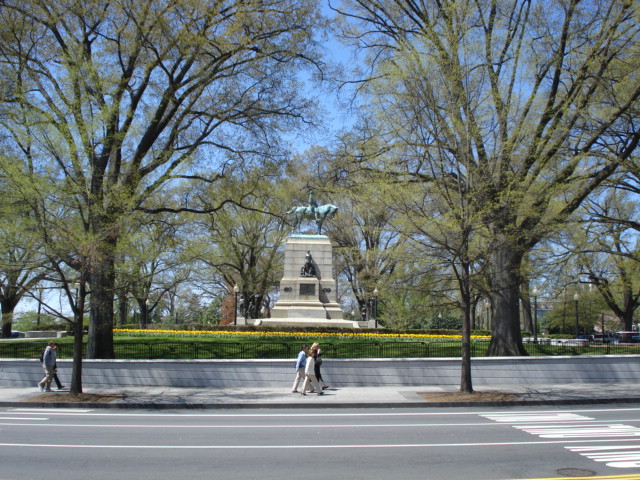 Washington is nice in springtime. This is general Sherman near 13th St.
I am home on R&R and Virginia and Washington are green and beautiful. The sky is blue. Flowers are blooming. April is my second favorite month around here, after October.
Washington is a nice city. It is walkable and full of parks. I have gotten to know a lot of the city at ground level, especially the Capitol Mall. I have seen a few changes. Most are good. The WWII& Korean War Memorials were good additions. The American Indian Museum has really nice grounds. I especially like the pond. I made a note re the the American Indian Museum a couple years ago, if you want to see pictures.
The city around the Mall and to the East has gotten a lot better, especially the Capitol Hill area.  The bad part of town used to start at 14th Street.  Now you can go almost to the Anacostia and still be in a place that isn't too scary.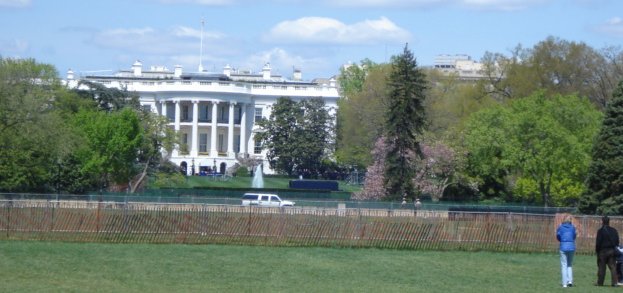 I would not mind living around here after I retire. The nice things re Washington is all the free "intellectual services". Of course, you have all the museums around the Smithsonian and the area is rich in Colonial & Civil War history not far away. But you also have the think tanks with daily lectures and other events. Many of them give free lunches, so they feed both body and mind. I have fairly eclectic tastes, yet I notice some of the same people attending lectures wherever I go. I am sure some of these guys come for the free lunch. You could live off the fat of the land if you owned a good suit and didn't mind sitting through lectures on various subjects. The best breakfasts, BTW, are at AEI. Heritage provides Subway sandwiches and very good chocolate chip cookies.
Many of the lectures are also available online, but I find I pay a lot more attention if I can see the person right there. It is a great luxury of Washington. Boston was like that too, of course, but not every place has that kind of intellectual infrastructure.
At had some meetings at HST and SA 44 today. I went in early with Chrissy and walked from Federal Triangle Metro to SA 44. On the way is the American Indian Museum. As I walked around there, I recalled my decision to go to Iraq.
I had almost forgotten. I talked to Chrissy about it and then talked to Jeremy. Then I decided to go and told others. Telling others is a good way to confirm a decision. It makes chickening out harder. A couple days later, I felt like chickening out. Who doesn't have doubts? Now my decision to go to Iraq seems natural or even inevitable, but was not. I walked around that pond at the Indian Museum, heard the water running and the red wing blackbird singing. Of course I knew I should go and did, but I remember thinking, "What the hell have I gone and done?"
At the halfway point, I can say that I am really happy that I made that decision. I am grateful for the opportunity. It is easy to overlook what a great opportunity it is being a PRT leader. Not many people get to do something like this and even fewer get this kind of adventure when they are past 50 years old. I cannot say that I look forward to going back to Iraq. The hot weather is coming and the dust never goes away, but it is a good experience. I love working with my teammates and the Marines there. I think my team is making a difference. I am making a difference. That is important to me.