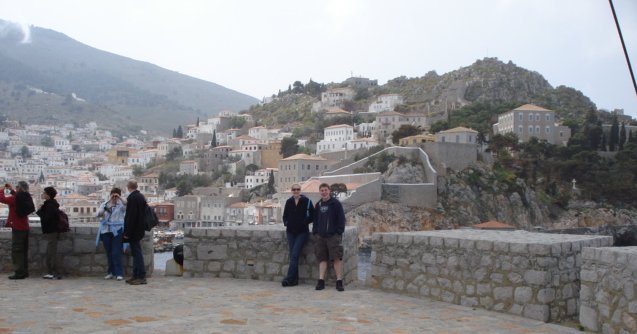 Much of Greece consists of islands. The Aegean is really a drowned mountain range with the peaks protruding above the water and the valleys sunk below. And the islands are very close together. You can usually see the next island from the one you are on. This invited exploration even by sailors who didn't like to be out of sight of land.
Below is the Orthodox church on Aegina. Aegina is a big island, as you can see from the background.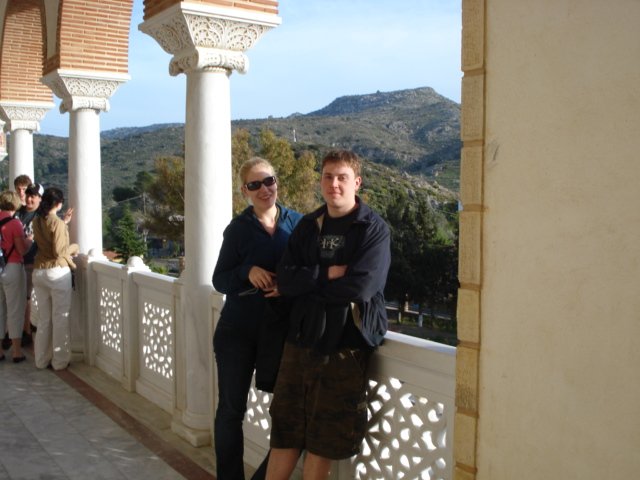 We took a cruise to three islands: Poros, Hydra and Aegina.  Poros was not very attractive.  Well, the island was pretty but the houses were that 1960 socialist style.  It was worth seeing, but not worth going to see.  Hydra was beautiful.  The natural setting was spectacular and the buildings were well constructed and good looking.  There are no cars on Hydra, which makes it an exceptionally good place to walk. Aegina is the biggest of the three and it was an important center in ancient and medieval times. There is an ancient temple and a Greek Orthodox monastery.  This island is fertile and is a paradise, with olive & pasticcio groves mixed with citrus framed by pine forests all overlooking the blue sea.   The pictures do not do it justice, but look at them anyway.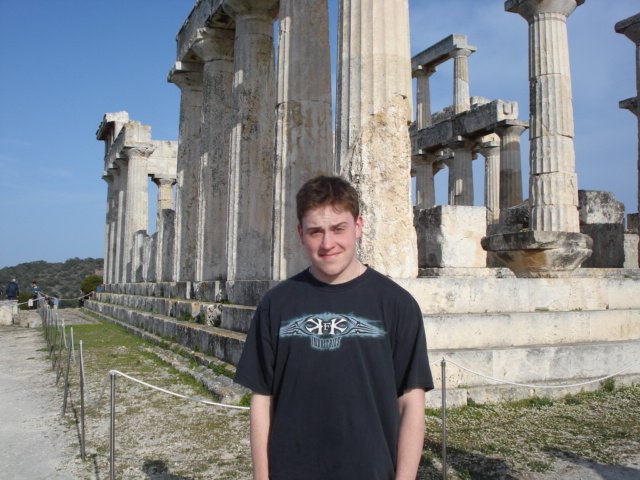 Above is the Temple of Athesis on Aegina.
Cruising itself is not much fun. A cruise boat is like a big floating bus. But being there among the islands is great.
Below, Espen deals with the early wake time and the slow boat syndrome.