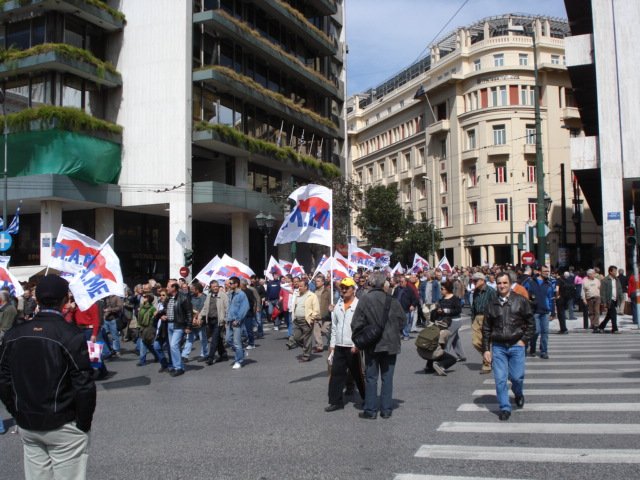 I would have to tell the story of today by telling what we didn't do. We didn't go to the Archeological Museum. We didn't go any other museums. We didn't even go to the park. All these places were shut because of a strike/demonstration by government unions. We DID see them marching and chanting. It was very 1930s except the banners are more colorful: less red, brighter pastels.
Demonstrations are always the same.  You get the big march and the chanting in simple words and cadences that the cognitively challenged can repeat w/o too much trouble, something like "The workers – united – will never be defeated."  We saw on the news that some fire bombs and tear gas were used after the main demonstration.  The protestors looked peaceful enough when we saw them.  I think most were just ordinary people, but there are always some of the violent guys who take any opportunity to make trouble.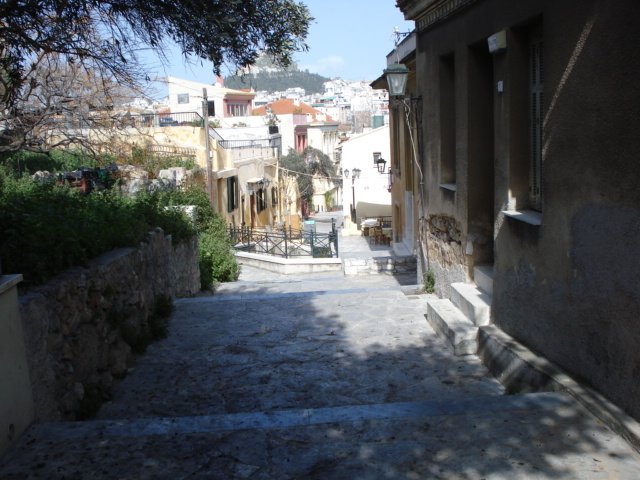 We walked a lot, since the Marriott shuttle couldn't drop us or pick us up in town. I had a good time being with Mariza & Espen. Above is one of the steep paths we climbed. Since I didn't get to go to the museums, I have rationalized it away. It is true that actually seeing the real thing is sometimes less satisfying than seeing a really good photo, since you can usually see more detail in the photo and there is more explanation. That is what I am telling myself anyway. It is not entirely wrong. I recall when Chrissy and I saw the Mona Lisa in Paris. It is smaller than you think and farther away than you would want. The same went for Stonehenge. On the other hand, even on this short trip the Acropolis and Mycenae were more than I expected.
Anyway tomorrow we have an island cruise day and then the kids go back to America and I go back to Iraq. They rhythm of that reminds me of Davy Crockett's campaign slogan. I will recall as best I can. "If you reelect me, I will serve you well and honestly; if you do not, you can go to hell and I shall go to Texas." I felt funny not being in Iraq for a few hours, but I came to my senses. Still I have to go back so I may as well make the most of it.
Espen has decided he will look angry (and tough) at all the photo sessions from now on, so whenever he notices the camera…well you see.  Who knows why?  But I will post in any case.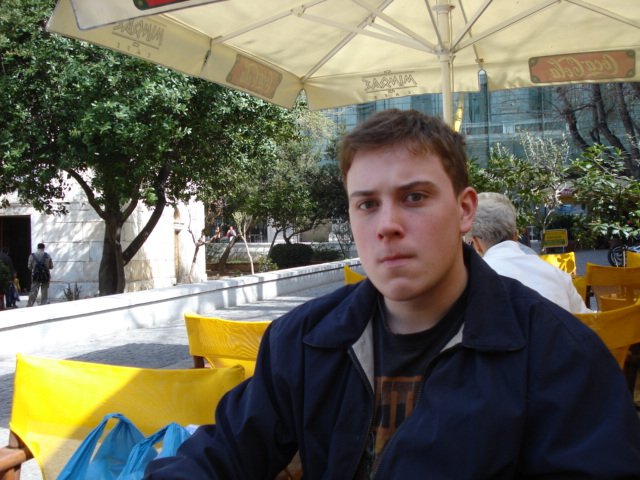 I did get him when he wasn't looking, however.