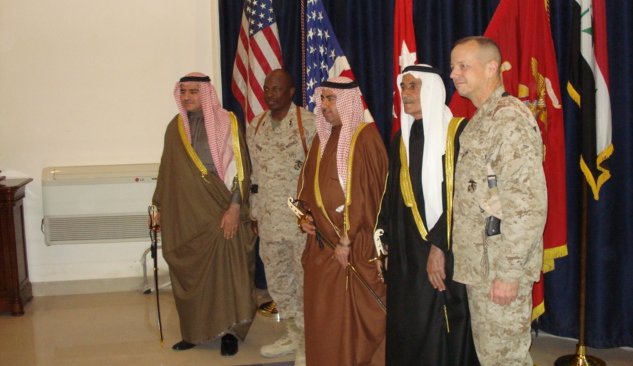 The Mameluke sword is patterned after one given to Marine 1st Lt. Presley O'Bannon during the First Barbary War in 1804. Maj General John Allen told the story. We went to Fallujah to present Mameluke swords to the sheiks of leading western Anbar tribes. The Sheiks were delighted with the honor and genuinely appreciated the tradition and the story of how Arab tribes had fought alongside the U.S Marines on the shores of Tripoli in that distant time and hoped the relations would continue offering (in jest?) to help liberate Afghanistan with their new swords.
After recounting the great success the alliance of the Marines and the tribes has achieved in Al Anbar during the last year, one sheik commented that 2008 must be the year of the rule of law. Rule of law must supersede tribal law, he said, and rule of law must keep Iraqi together as one nation. I have heard these sorts of comments on many occasions. The Sheiks of Anbar, with their martial outlook and tradition of defending Iraq, evidently consider themselves the custodians of Iraqi nationality.
A recounting of the heroism of the Al Anbar tribes followed. They recalled the dark & bloody days of late 2005 when it was not unusual to find headless bodies laying by the road. They talked about how the push against AQI had started in Al Qaim and then spread east. That is one reason why Al Qaim is relatively farther along in peaceful development than places in the east of the province. All the sheiks promised that they would never allow AQI to reestablish itself in Al Anbar.
The sheiks reflected the widespread belief among Anbari that their province has significant unexploited oil reserves.     They wondered when/if American firms would be in Anbar to tap this oil.  They said that they prefer American to European or others, since the U.S. is a reliable partner.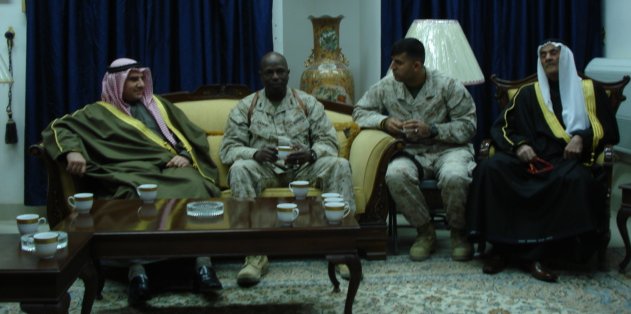 Above is Major General Gaskin, commander of CF in Al Anbar, with sheiks.
All the sheiks appreciate of their relationships with the U.S. and specifically with the Marines. Local leaders observably feel personal affection for current group of Marines. However the sheiks understand the transient nature of our assignments and are receptive to new friends. Social meetings such as this one are one of the keys to success in winning friends and influencing people in western Al Anbar.
The swords were a nice touch that united the warrior traditions of Al Anbar with those of the USMC.