We are looking for houses in New Hampshire and may have found one in a condo community called Century Village. It has most of the things we need and we think it would be easy to rent out, which is a big consideration since we plan to leave in a year. Pictures are below. Tennis and basketball courts are easy walks for the boys. There is a nice pool, but I don't think we will get much use out of it in the winter months we will be here. The place we hope to buy overlooks a large pond and the roads nearby will probably make good running trails.
Londonderry is a very nice place. It is full of apple orchards and maple trees. Robert Frost's house is nearby and you can see the birches, pines and stonewalls mentioned in his poems. The town has a Civil War monument that makes me think of Virginia. It looks like the same guys designed it. Of course these boys fought on the other side. The schools, both high school for Alex and middle school for Espen, are good, and New Hampshire schools are good in general. People take pride in their lack of sales and personal income tax. When I asked how the state can get by without the usual taxes, a couple people told me that they do without the socialistic policies of Massachusetts (their words, not mine). The live free or die state does not encourage welfare dependency. There seems to be some rivalry between the states. When we talked to a guy in Massachusetts about New Hampshire, he said, "sure you can live cheaper there, but you will be in New Hampshire." He obviously did not feel further explanation was necessary. Unemployment is less than 3% in southern NH, but wages are low by regional standards. Londonderry is run by town meeting, in the old New England style. Ordinary citizens are involved in the government. I read the town meeting minutes on the Internet. People bring up whatever they want and evidently feel passionately about some pretty arcane things. The meetings must be more entertaining than television and I look forward to attending the September meeting.
I will also be very happy to be here in the run up to the New Hampshire primary. My guy will run without significant competition, but I will take pleasure in watching the dozens of Democratic dwarfs duke it out in the snow. Maybe I will get to meet them in town meetings. Among these guys, my favorite is Joe Liberman. National newspapers say that John Kerry and Howard Dean will have a leg up since they come from nearby states, but my initial impression is that coming from those states confers no particular advantage beyond a short drive. Unlike its neighbors, New Hampshire went for Bush in the last election, but is considered a swing state by strategists, so it might get some attention from the RNC.
The only downsides of living here are that I have to commute a fairly long way to Tufts (which means buying a second car) and we have to come up with a down payment to buy the house. It takes only about 35 minutes to drive from Londonderry to Tufts on Interstate 93 when there is no traffic (we tested it ourselves), but I can't count on happy state of affairs every time I drive. I also understand that it snows around here. I noticed people have the habit of talking about snow in terms of feet and yards, not inches. This is probably not a good sign. Still, all things considered, life is good. I keep on looking for something bad about this assignment at Tufts, but I still can't find anything serious. After a life spent honing the fine art of complaining, I am at a loss. Given time, however, I will come up with some appropriate sarcasm and figure out the nefarious plan State Department manifestly devised to mistreated me by making me come to a place I think is great and paying me to go to a school that – given my grades, SAT & attitude – would never let me in if I applied as a student.
Below is the pond near our house. Alex wants a little canoe so that he can paddle to a small island in the middle. I suppose he will only use it once or twice, but I think it might be a good idea to indulge him – with an old canoe of course. Mariza is doing the model pose in the picture. The woman in purple is the real estate agent Alina Tobin. She moved from Poland in the 1980s. We didn't know that about her before we called the office. It is a small world. She was so happy to talk to someone who had been to her home country; I think we saved a couple of percentage points on the commission. She was a very nice woman, very helpful and, as an American by choice, very proud of her new home in New Hampshire.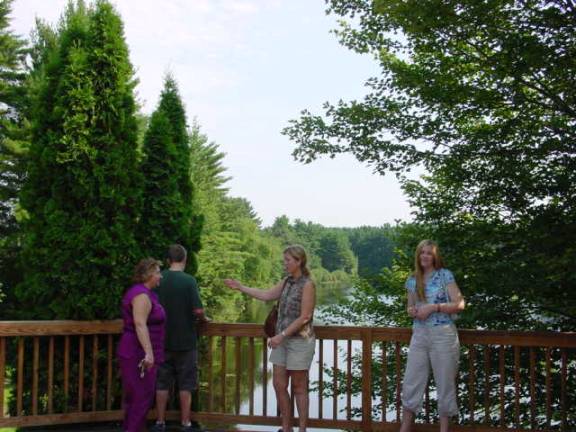 Potential running trails steps outside the door. The scar on the road, I am told, is where they recently laid cable for high-speed Internet connections. This is good, since I hope to telecommute some days.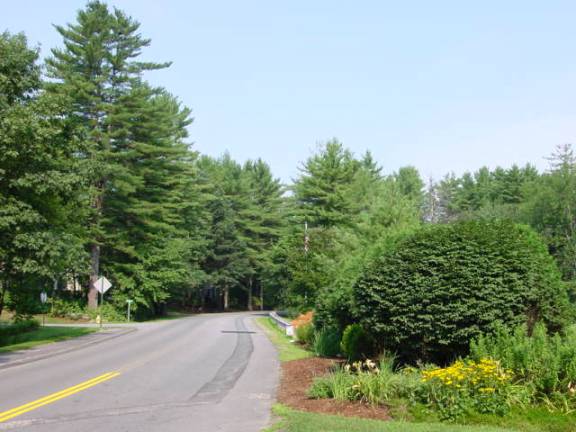 This is the view from outside the back door. The grass is not on our property, but we can use it. The best of all conditions – use without mowing responsibilities. You can't see the pond on this picture. It is just on the other side of the first group of trees.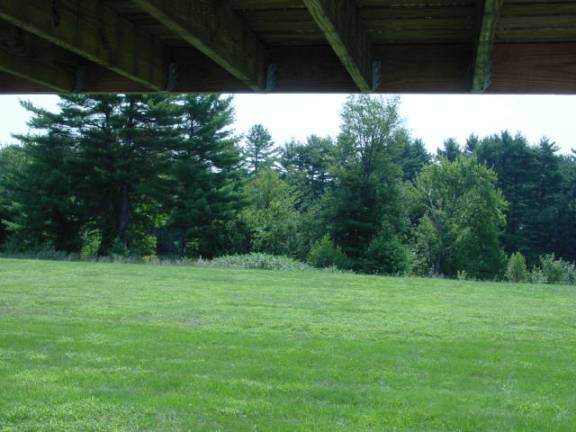 Inside. The place is not that big, but should be enough for us. It was built in the 1980s and still has that "look", which I do not like too much. I actually like the pond and the trees. That is what draws me to this place. Most of New Hampshire is covered with trees, so I figure it can't be too hard to get wood for the fireplace. I do enjoy making fires and I will enjoy making the boys spit wood. I really like to chop wood myself. It was always the service I provided to anyone I visited who had a wood stove. Anyway, it builds character. Chop your own wood and it will warm you twice, said Ben Franklin. CJ can fix house problems, such as the sliding doors. We will have to paint. This is the front room. Below are the potential boys' bedroom (with loft) and the basement that CJ may make into another bedroom.
Reports have it that the boys don't look happy in the pictures, so I asked them to smile. Espen complied with a fake smile. Alex made a special effort to look unhappy. But I caught them a couple second later looking sincerely happier. I think they will like this place.