We visited Mariza's future school – Mary Washington College in Fredericksburg. It is a cute place (pictures below). Everything is neat, clean and well maintained. It looks exactly as you would expect a college in the middle Atlantic south to look. There are only about 5000 students at the school and all the courses are taught by professors, not teaching assistants as we used to get at the big Midwestern universities I attended. (I lost a lot of respect for teaching assistants when they gave me that job at U of M. I knew less than some of the students I evaluated.)
The city of Fredericksburg is also cute and historic. It reminds me of Alexandria. It is about as old as Alexandria, (founded in 1728), although not as aristocratic looking. It was more a working or commercial town. The city originally handled sea commerce that sailed up the Rappahannock River, until seagoing boats got too big for the shallow river harbor to accommodate. Fredericksburg is best known for the battle that took place there in December 1862. Wave after wave of Union troops attacked Confederates well entrenched behind a stone wall. Many of the deadliest battles of the Civil War took place within a short distance of the city, which made the mistake of being about equal distance between Richmond and Washington. According to what I read, about 100,000 men fell in the battles of Fredericksburg, Chancellorsville, Spotsylvania and the Wilderness, all within a long hike from each other. The armies passed this way many times and battles were fought over the same ground. Soldiers in 1864 had the unpleasant experience of coming across the remains of comrades from the last conflicts. It is hard to envision the carnage now on the peaceful and pretty forests and fields.
Chrissy and Mariza try to decide who is taller. I think the contest was long ago decided. This is one of the buildings on campus. Most of the others look similar – red brick and white pillars. They could use some ivy on the walls. Everything is "Gone with the Wind" style. This is a pleasant campus. I think you can walk from one end to the other in about ten minutes, so it should not be too hard for her to get to classes.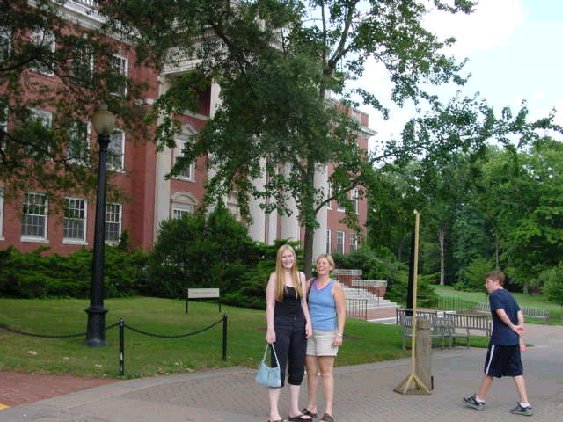 These are dorms. They are much nicer than the dumps I had to live in when I was in college. There was also a lot of snow in those days and it was colder. I had to walk many miles to class – up hill both ways. Kids today have it too easy.
A street scene in Fredericksburg. This city has more antique shops per foot than any other place I have ever seen. Parking is a problem. Fortunately, Mary Washington does not allow freshmen to have cars. The town center is about a ten-minute walk from the campus.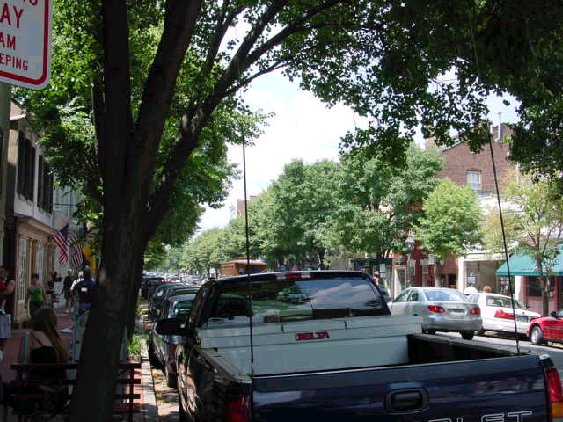 The stone wall. It was not so peaceful in 1862. I would not want to run up that hill while people were shooting at me. The battle took place in December. Virginia is not a particularly cold place, but it is frozen in December. Some of the injured men froze to death on the field in front of the stone wall.